CHECK OUR BLACK FRIDAY SALE PRICES !!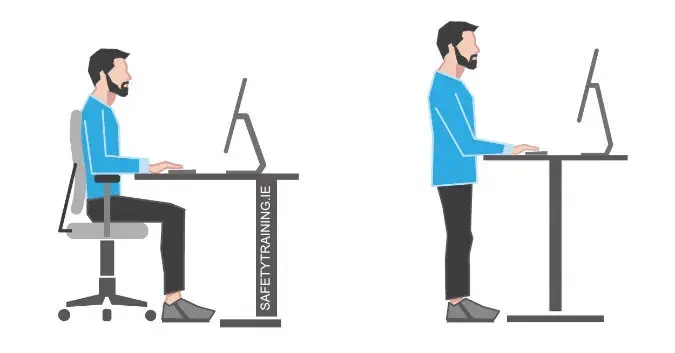 DSE VDU ASSESSOR COURSE DETAILS
Duration: One day
Location: Online over Zoom
Cost: €250, including Certification
Includes: All teaching material and ongoing support
Contact: You can mail me using the contact form below or you can call Mark on 087 3962215
DSE VDU ASSESSOR COURSE AIMS
The aim of the DSE VDU Instructor Assessor course is to give participants the correct skills, knowledge and resources to be able to perform a DSE VDU risk assessment and advise others how to set up DSE workstations correctly. It is suitable for trainers who wish to be a DSE Assessor and deliver the course commercially or in-house trainers who wish to deliver the course to employees within their company.
DSE VDU ASSESSOR OBJECTIVES
Introduction to Display Screen Equipment
Ergonomics and Workstation Setup
Health and Safety Guidelines
Risk Assessment and Control Measures
Training and Communication
Practical Demonstrations and Assessments
DSE VDU ASSESSOR INSTRUCTOR COURSE CONTENT
1. Introduction to Display Screen Equipment:
What is DSE?
Awareness of the hazards and risks associated with DSE workstations and usage.
Irish Legislation related to DSE and VDU usage.
2. Ergonomics and Workstation Setup:
Have an understanding of ergonomics to include knowledge of musculoskeletal disorders.
Proper workstation setup for optimal comfort and productivity.
Adjusting chairs, desks, and monitors to suit individual needs.
3. Health and Safety Guidelines:
Identifying and addressing common health issues associated with DSE usage.
Good posture and exercises to prevent discomfort and strain.
Eye care and reducing visual fatigue.
4. Risk Assessment and Control Measures:
Conducting DSE risk assessments.
Identifying potential hazards and implementing control measures.
5. Training and Communication:
Developing effective workplace induction for DSE users.
Communicating the ongoing importance of proper DSE usage.
Encouraging a proactive culture of health and safety in the workplace.
6. Practical Demonstrations and Assessments:
Practical observations and assessments of DSE setup.
Provision of constructive feedback reports.
Guidance and Resource pack to deliver informative DSE training sessions.
COURSE OUTCOME
Successful delegates will receive a SafetyTraining.ie DSE VDU Assessor Certificate.
WHY SHOULD YOU TAKE THE SAFETYTRAINING.IE DSE VDU ASSESSOR COURSE
Our DSE Instructor has Master's degree and a Degree in Health & Safety and Environmental Management, a Postgraduate diploma in Health & Wellbeing, and NUIG and QQI teaching qualifications, She is also a very experienced trainer. She trained as a nurse, so is familiar with what is ergonomically required to set up a workstation correctly, either at home or in the office so that it is safe for the end user.
All people that use display screen equipment must be trained in compliance with  The Safety, Health and Welfare at Work (General Application) Regulations, 2007 Chapter 5 of Part 2.
All delegates are given access to the digital resources needed to deliver the course. These resources include the PowerPoint presentation along with many other documents to aid in the delivery of the course. Ongoing support via phone or email is included for as long as is required.
HOW AND WHERE CAN I TAKE THE COURSE
This course is on Zoom on a regular basis; the cost of this is €250.
COURSE REQUIREMENTS
All of our courses are delivered using the English language, so delegates must also have a good command of English, both written and spoken, so the course can be fully understood. You are welcome to bring an interpreter with you to class if you choose, but we would ask to be informed of this when booking.
FURTHER INFORMATION
You are more than welcome to contact us by mail or phone if you have any questions about the course, within reason, at any time and our contact details are below
HOW TO CONTACT US
By filling in the contact form on this page or calling 087 3962215. Thank you.
YOU CAN ALSO CONTACT US HERE